As educators, schools, and even professionals outside of education evaluated different options for synchronous video chats, a friend of mine was considering an option that I hadn't heard anyone else mention. When Molly Klodor told me about her experience with using Discord for her Quiz Bowl team, I immediately asked her if she'd be interested in sharing it as a guest blog post. Here it is . . .
---
My quiz bowl season was going so well. Both Varsity and JV were confidently buzzing in and having a blast, and my Varsity team was scheduled to go to Columbus for our state tournament at the beginning of March. We were so excited to cap off our excellent season!
Then came COVID-19. 
We let ourselves mope a bit at the cancellation of our tournament and the abrupt end to our season, but we needed to move on. I told my team we'd keep practicing, running trivia rounds through a Hangout or something. I said I'd figure something out. But my students, ever wiser than I, suggested I look into Discord. 
Discord is a free voice, video, and text chat service that is used most frequently for gaming. If you ask any of your students if they use it, it's likely that your gamers do. I had heard people talk about Discord but I'd never logged on and I had no clue what it looked like. I did some research and found a blog post from Discord about using it for your remote learning. I thought I'd give it a shot. 
First, let me say that I don't think that Discord is for beginners, even with the template the program gives teachers. There are a lot of settings to finagle, roles to assign to people, and different rooms (they're called Servers) to work with. But now that I have it set up, I can definitely see the benefits!
I set mine up to have a resource channel that would benefit all of my students, regardless of course. I also have a Q&A channel where students could ask questions that would benefit the good of the group. Then I have a channel for each course I teach in addition to my quiz bowl channel. Here, we can log in and have chats, and from here we can video chat. This is what I made the Discord for in the first place – the Discord chat doesn't require any special apps or devices – it can be loaded from anywhere. There can be 50 people in a room at a time, so it was plenty to host my quiz bowl team. The video quality was good for everyone and it was easy to set up. The camera allows us to see everyone in the room at the same time, as well as a chat below to continue the conversation.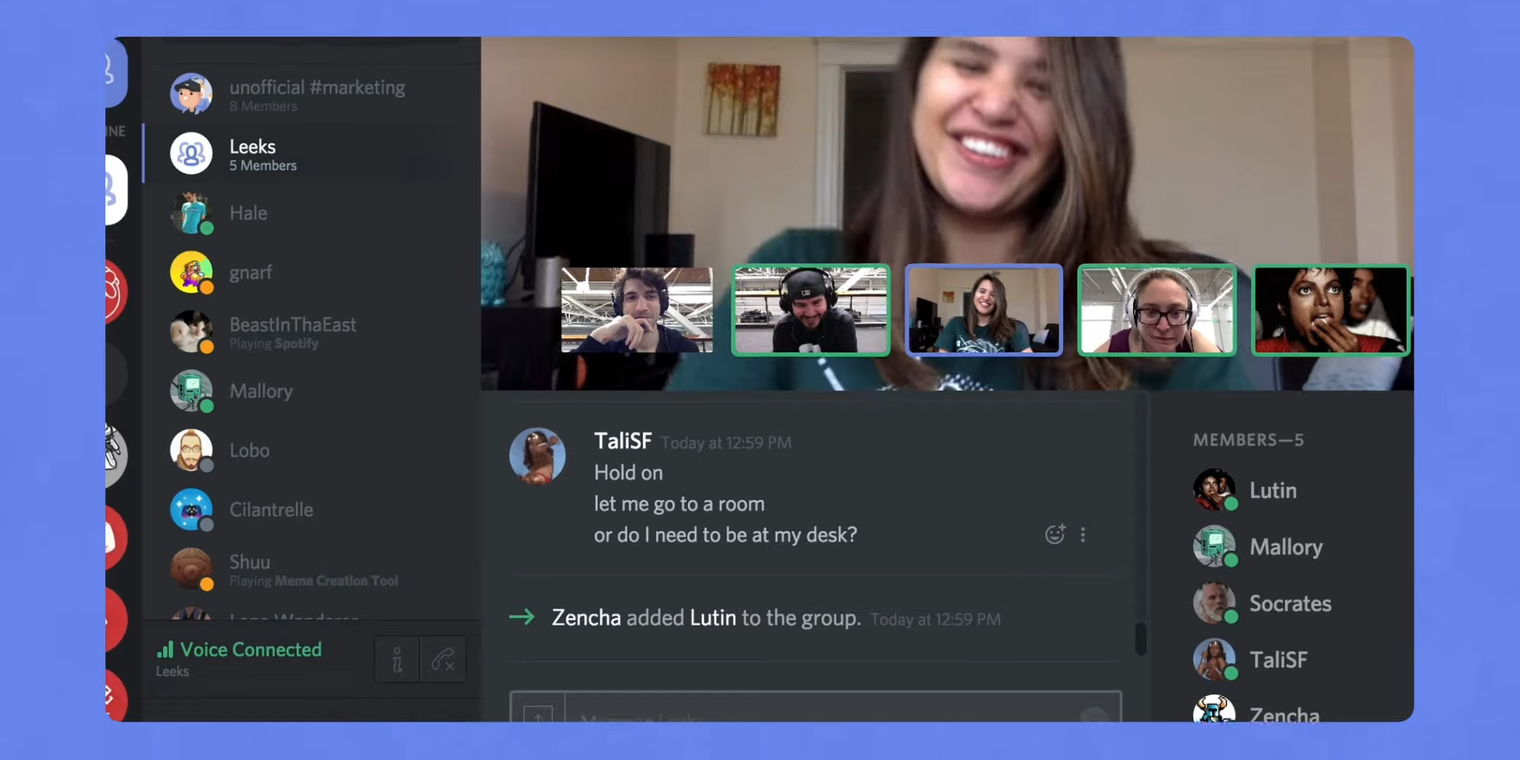 I can imagine that, had I set this up at the beginning of the school year, I'd find this to be a great tool for sharing material online, especially if my school didn't have a Learning Management System in place. While I'll keep using the program for my Quiz Bowl team, I don't plan to use this with my students right now. I don't feel right about throwing them a new technology right now. Furthermore, I would want to get parent or guardian permissions, given that this isn't a technology supported by schools. If I were to use this with parental approval, I'd share this Parent's Guide published by Discord to help answer some questions and to encourage parents to help students with the privacy settings on their accounts. 
Here's a basic overview of how Discord compares to the two most popular synchronous video services:
| | | | |
| --- | --- | --- | --- |
| | Discord | Google Meet | Zoom |
| Archived Chats | | X | |
| Live Stream | X | X | X |
| High-Quality Video | X | | X |
| Screen-Sharing | X | X | X |
| Embedded in LMS | X | | |
| Easy to use | | X | X |
This guest post was written by Molly Klodor, high school language arts teacher and quiz bowl coach.  Connect with Molly on Twitter @MrsKlodor!